MFA Thesis Exhibition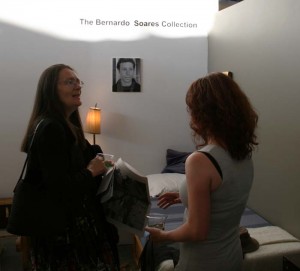 I just graduated from California College of the Arts. The MFA Thesis Exhibition had its grand opening Thursday May 12th and stayed up until May 21st. My installation, taking the form of a museum collection dedicated to Bernardo Soares, occupied one of the classrooms in the nave of CCA.
The Bernardo Soares Collection contains items that have either been in the possession of Bernardo Soares, or objects that can be related to this essential thinker. In the collection, one will find furniture, personal belongings, and interpretations of Soares's creations by other artists. You can have a look at his replicated working study, then take a quick break and watch the experimental documentary that was made in honor of his life.
SF Gate, home of The San Francisco Chronicle, wrote the review "Sensorial – The MFA Exhibition at the California College of the Arts." These are cut and pasted sections of the review.